Richmond upon Thames College - Performance Theatre
AV INSTALLED
Extron Switcher
Panasonic Laser Projector
LG 4K Displays
Datavideo PTZ cameras
Avenue Lectern
Nexo Loudspeakers
Shure's QXLD range: four-channel digital wireless microphone system
Richmond upon Thames College is a further education college in South-West London offering a broad and innovative curriculum for post 16 study. The College is in the process of adding extensive new infrastructure to support recent growth and success, with an £80 million flagship building completed in 2020 and a new STEM Centre ready in 2022.
For this project, GVAV were tasked with designing and implementing a flexible performance-based Audio Visual solution for Richmond's new 200-seat performance theatre. This blank canvas space required extensive and detailed design of technical systems to turn the auditorium into an 'all-singing', 'all-dancing', multi-functional theatre, ready to support the impressive performing arts department and wider uses such as conventions, commercial hire and HE fairs. The installation included AV systems, theatre sound and communications, stage engineering, drapes and production lighting.
A cyclorama display
The AV systems were designed with the specific project requirements in mind; A high performance, multipurpose space. The main AV switcher selected was the Extron DTP Crosspoint 84 matrix switcher with four independent outputs which can display one of eight inputs. A Panasonic PT-RZ970 laser projector was chosen due to its very bright output (9,400 lumens), for excellent image display even onto a 9m wide cyclorama. With expanded HD resolution (WUXGA, 1920x1200), and support for full native resolution (16:10), the output quality is ideal for events, presentations, and performances. A portable stand-mounted LG 65" 4K display has been included for functions involving smaller groups like rehearsals or teaching, avoiding the necessity of using the large projector when impractical, also therefore extending the lifecycle of the projector. The display can also double as a confidence monitor for various functions, placed between curtains wings so it is visible on stage but not to the audience.
The perfect performance space
Two Control Room preview monitors (Iiyama 27" LCD displays) feature for camera feedback, displayed content monitoring and for function support by technicians. Datavideo PTZ cameras were mounted on the first lighting bar above the audience seating, these high performance, low-light infra-red cameras are ideal for performance spaces, lecture capture and presentation purposes.
A modern, custom built lectern by Avenue takes the spotlight with LED lighting but a small footprint. The lectern provides flexible folding worktop space for user laptops/paper, alongside a built-in touch monitor, Mersive Solstice Pod for wireless presentation and an Extron 7" control panel, for ease of operation for any user.
Extron-certified control system
The control system was programmed by a GVAV in-house Extron certified pro programmer and tailored to the clients' specific requirements.
The audio processing and mixing was of dual nature. On one side with a traditional set-up for live venues hands-on approach at the mixing console – Soundcraft Si Impact along with Mini Stagebox 32i and on the other BSS BLU-100, the 12 input, 8 output audio DSP. This mixer was chosen due to its flexible hybrid analogue-digital nature, on one side simple design, with no confusing hidden features crucial during live performances with potentially less experienced users and on the other hand featuring digital onboard effects and the desk acts as a 32 in/out PC audio interface allowing multi-track recording.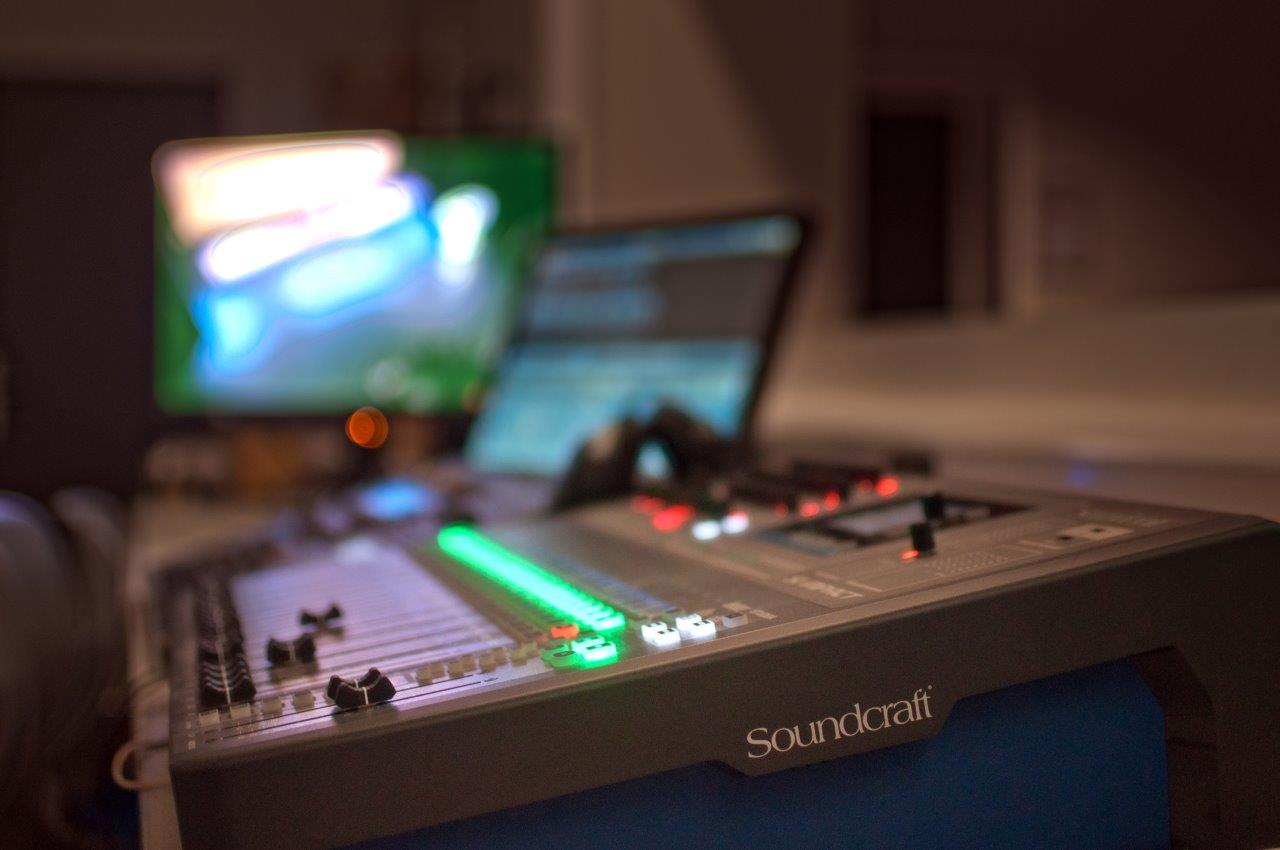 High quality audio solutions
For effective sound reinforcement, Nexo PS10 full-range loudspeakers were the ideal solution. Providing even, flat-band sound coverage with enough high-power capability for rock concerts. Audio Technica high sensitivity shotgun microphones act as Show Relay microphones for the crew but also allow simple but high-quality stereo recording of the show.
The Show Relay microphones also provide audio for assisted listening for hearing impaired members of the audience, as a 12 belt-pack system by Williams Sound was installed, including headphones and neck worn induction loops. This is an infra-red system to avoid floor mounted copper induction loops.
A shining example of AV for a showstopping result.
GVAV chose a four-channel digital wireless microphone system: Shure's QXLD range. To cater for multi-functional nature different types of transmitters and microphones have been included. belt-pack transmitters with TH53 headsets will provide freedom of movement during performances; with Lavalier microphones will be more useful at conference and teaching functions, and hand-held transmitters with dynamic SM86 microphones least likely to cause audio feedback will cover live singing and speech.
This project is a shining example of how AV can be utilised within a performance theatre for a showstopping result.