Corporate and business
For over 45 years, we've seen how technology has revolutionised the
way people in businesses large and small work, communicate, and collaborate. Through the power of AV, an office building can be transformed into an immersive experience to enhance the productivity
​​​​​​​of any business.

From the smallest to the largest operations, GV has proven experience to help maximise your use and benefit from any AV system.

A seamless AV experience throughout
Our AV solutions help enhance the smooth running of any business. It can improve message retention and efficiency of spaces including reception areas, meeting rooms, board rooms, and office spaces, as well as accommodating the needs of remote workers - all to maximise user productivity.

With the increased need for flexible working our AV solutions mean your team can stay connected and productive wherever they are.
Businesses need quality support. GV's excellent after sales service and advice can be relied on together with our offer of bespoke, comprehensive maintenance support packages tailored to your requirements.


We are extremely pleased with the overall solution –particularly the attention to detail when designing and building the units…"

Cardiff University
GVAV had clear communication contractors, dealing with any issues without fuss – helping create one of the finest lecture theatres in Britain."

Bournemouth University
GVAV has been able to roll out and deploy no fewer than 122 rooms in an incredibly time and cost efficient way by applying a successful formula"

Kingston University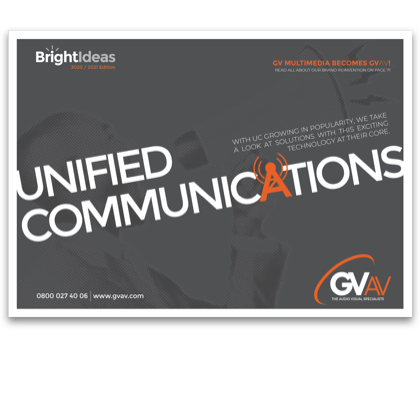 Large file, download by WiFi recommended.
Partners and relationships
The GV team brings with it access to our renowned network of industry-leading brands, ensuring every customer has access to the sharpest and latest advances in the AV marketplace. Technology moves quickly, so through our partners we aim to develop future-proof systems that draw on the latest technologies while being able to stand the test of time.