AV Services
GV services encompass the full suite of design, installation, collaboration, and aftercare for every project. Our solutions are always flexible, designed specifically for your requirements, and are created to respond to your unique environment.
GV specialises in AV product supply from the very best global and local manufacturers. Every partner we work with is handpicked to provide the highest quality products along with a commitment to ethical and sustainable manufacture.
We bring over 45 years of manufacturer relationships and accredited supplier status
to every AV solutions project, enabling us to offer you the confidence of selecting the
right products to meet your needs.
With fiercely competitive pricing we provide our customers the best solution for their budget. We leverage our experience in the industry to command the most commercially advantageous pricing and support in the market.
GV also offers preferential stock allocation and unparalleled supplier support to ensure the best assurance of product supply and timely availability.
Solutions Design
From the smallest meeting room to the largest lecture theatre or estate-wide AV solutions, we have the skills and resources to ensure success and provide the best possible return on your investment.

Our Solutions Designers are highly trained, skilled, and perfectly placed to help you
​​​​​​​realise your AV needs and aspirations.

With decades of system design experience, we
maximise the available space, using the latest
AV technologies to meet your needs.
Our customers value our partnership approach
to innovative design and solutions. We work to recognised enhanced AVIXA standards for consistency and performance across the spectrum of our AV installations.

Each of our bespoke designs incorporates the same commitment to best practice, using
the latest in manufacturer and industry
training, knowledge, and expertise.
We have a well-respected industry reputation for robust, quality integrated AV solutions, and for developing systems that are simple to use while providing a great user experience for your team.
You can be confident in our effective integration of the latest technologies or blending into existing legacy systems.
We efficiently work with any third parties or contractors you may have engaged on your site - ensuring that our presence is as seamless as the solutions we provide.

​​​​​​​We adhere to strong Project Management practices that enable us to integrate into any construction or refurbishment project, no matter the scale.
Project Management
Our Project Management team consists of experienced, well-trained, and accredited professionals.
We recognise that excellent project management is critical to customer satisfaction and to ensure project success.
As a result we invest heavily in our national PM teams who are all highly experienced and qualified, as well as being PRINCE2 and CTS trained.
With flexible project reporting software, we ensure our customers have the best visibility
​​​​​​​of their projects, and progress, at all times.
Our systems help deliver agile, transparent, and timely project visibility for all key stakeholders, helping keep the project on time and to budget.
User confidence and adoption is essential to your project success and our flexible user adoption and system support training is adapted to your specific needs.
We appreciate the need for flexibility and offer a range of times and training formats to match your user schedule and room availability.
No matter what the AV training type, depth, or need, GV Training Services has it covered. Our sessions are designed to be both enjoyable and productive and are typically delivered at your site, with your equipment, for the best results.
Technical Support
Excellent technical support is crucial to any effective AV solution and user confidence.
We value our customers and recognise the wide range of differing support and service needs that each may require.
We match the level of support to your specific needs reflecting the complexity of the solution supported and experience of the users involved.
GV Support Services include access to GVCore, our support and service desk solution for
incident logging, management and resolution,
​​​​​​​all accessible via phone, email or secure login.
Control Systems and Audio / DSP Programming
Our extensive team of programmers are qualified and experienced in delivering efficient, high-quality, and easy-to-use control solutions with intuitive touch panel GUI designs.

Our experience is proven with thousands of control system programs in use throughout the UK within meeting rooms, board rooms, and lecture theatres some encompassing complex, large system control.

Systems typically incorporate audio, visual and lighting control as well as estate-wide
​​​​​​​AV management solutions to include proactive environmental monitoring and room booking solutions.
Part of our commissioning process is the consideration of room acoustics. We specialise in audio DSP configuration to optimise audio performance in your environment.
We support all primary control system solutions including Crestron, Extron, AMX and Kramer. Our control systems programming service offers the best flexibility with fast, efficient coding for ease of support and best value.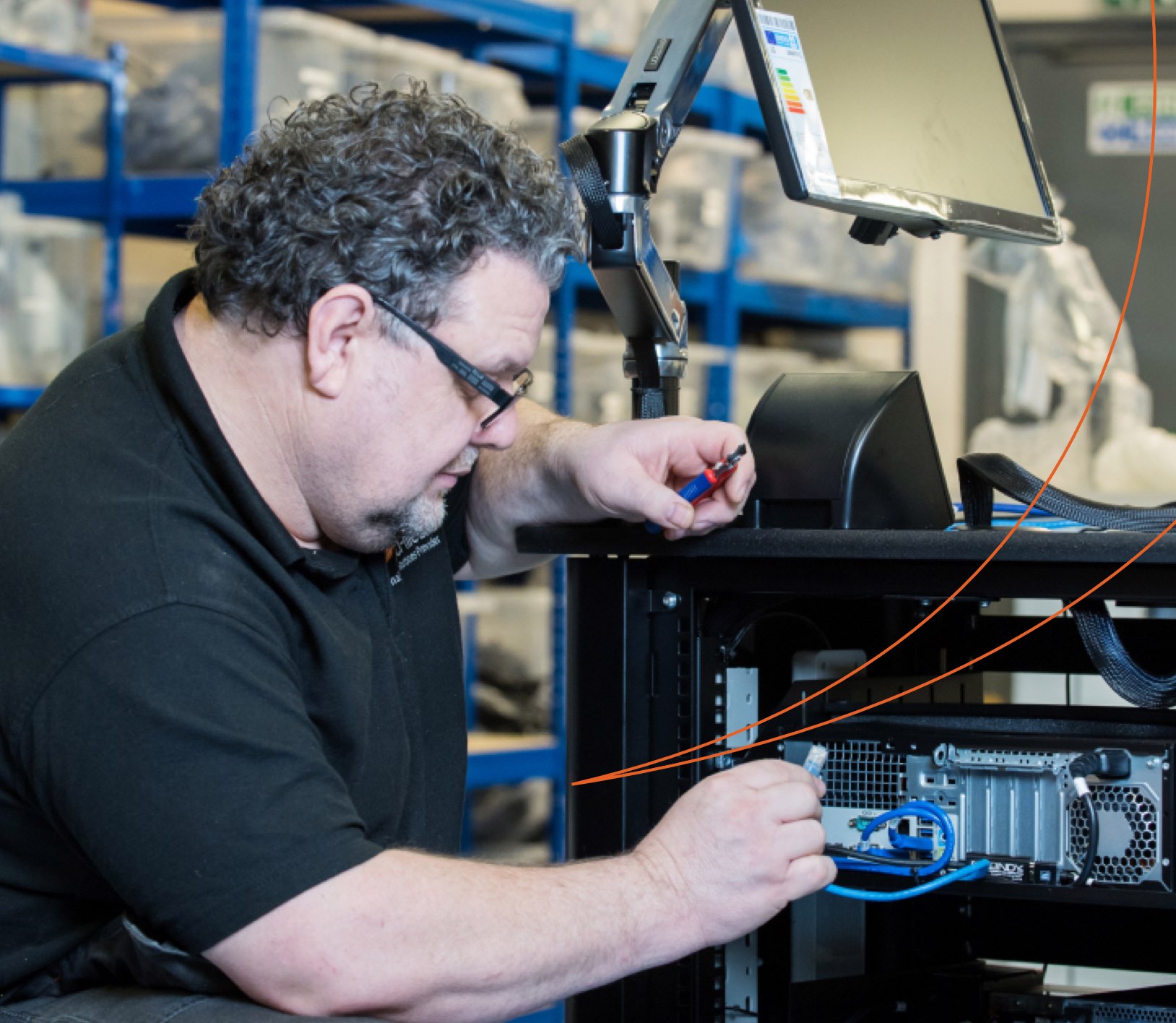 Maintenance
With our nationwide network of branches,
we offer local, experienced engineering
maintenance support.
We offer a broad range of maintenance
​​​​​​​services shaped to support your needs.

All are supported locally with our skilled engineering teams and backed by our
national network of offices.
We manage each maintenance call every step
of the way to ensure your request is dealt with
and actioned effectively and efficiently.
Our maintenance packages helps protect your
AV system and maximises your return on investment by providing swift solutions and minimising any potential downtime.