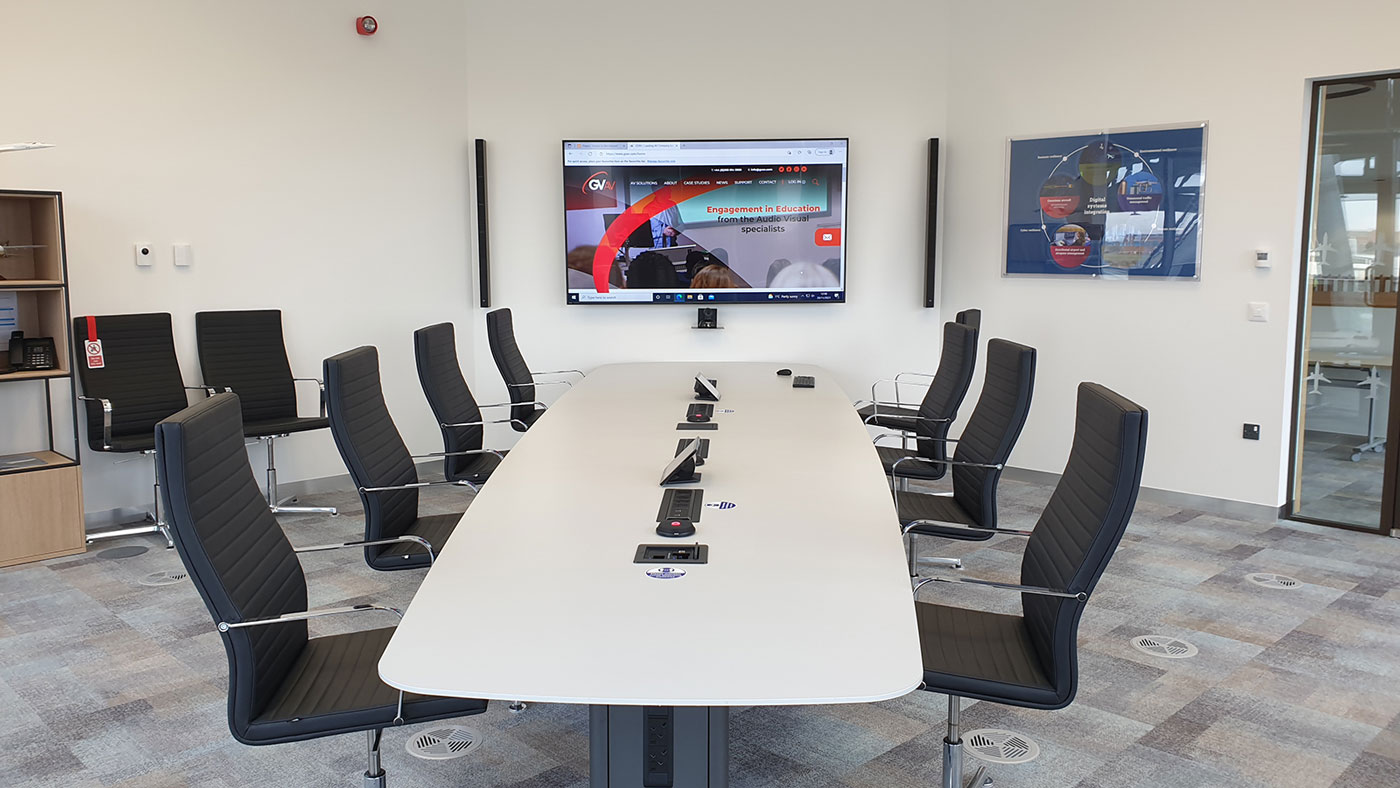 New user access is easy; an administrator simply logs into the admin page and assigns new users to the respective rooms.
The ease with which this system operates is a source of pride, as our primary goal was to offer a great user experience from day one. Maximising use, value and ROI.
The result is a testament to the planning, design and forethought of what we did for this project to ensure a scalable and flexible system.
In the Passenger Experience Lab, the building's most iconic location,
we installed a pair of prominent Renkus Heinz line array column speakers on either side of the LED wall, which provide the programme audio for the space and creates a clear visual feature.
We also designed and installed 18 single monitor Dante line array Renkus Heinz speakers on a truss rail; the speakers were spaced with precision so that the entire lab area had full coverage audio.
We created numerous presets for user-requested audio configurations, allowing users to set each speaker to play different output audio or enable/disable particular speakers.
As with all AV sources, this too was driven by NVX and utilised the Dante facility offered on the NVX-352, a high-performance AV over IP encoder/decoder supporting 4k 60fps video.
The entire building system uses Crestron Fusion, monitoring and scheduling software that allows support through alerts on Fusion or an on-demand support service. Users who need assistance can press the help button on any control panel menu and request rapid in-room support.
Alongside the flexible, scalable nature of the AV design, we ensured that the system offered sustainable efficiencies. Each area with installed AV was fitted with occupancy sensors, reacting to motion and light levels and linked with the room lighting and timed shutdowns programmed for day's end. After a period when sensors and control panels have not been activated, lighting and AV systems will shut down automatically.
Our designed system ensured maximum efficiency over the product's life and green efficiencies that additionally helped towards the BREEAM requirement for the building. Also, GVAV factored in long-term maintenance and redundancies into the design.
By utilising AVoIP-based solutions, any new or changing equipment will not require new cabling infrastructure. Any additional sources that the client may need for future upgrades to the sharing system will only require an additional NVX, which they can then incorporate into the system themselves or via GVAV.
Our brief was to provide a world-class facility with a state-of-the-art system that is easy to use, with each space designed to suit both current and future requirements.
Our client sees this project as a great success. It offers them all the facilities needed today and still looks to the future. We are proud to say we have managed to deliver this and much more besides.