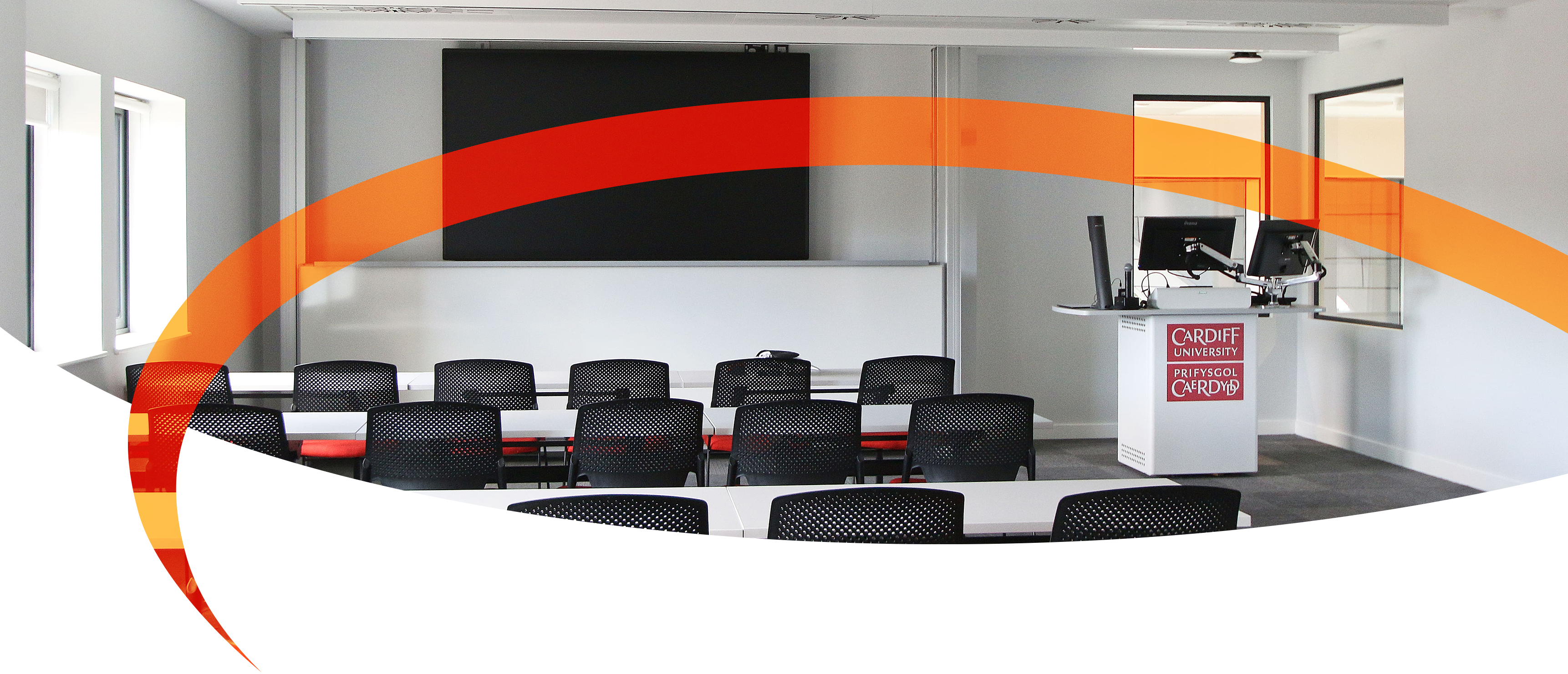 Cardiff University - ABACWS
AV INSTALLED
Crestron Control
Custom TOP-TEC Screen Mounts
Panasonic Pt-rz990 projectors
98" Panasonic display
PTZ Cameras
TK team column boards
The University of Cardiff is a leading educational institution in Wales, with over 33,000 students enrolled. The University is undertaking its biggest campus upgrade for a generation, as part of a £600m investment for the future. ABACWS is a new £39m 10,000 sq. metre building for the Computer Science and Informatics and Mathematics Schools within the University, designed to promote collaboration between staff and students in a flexible and creative workspace.
GVAV were appointed following a competitive tender process to provide the University with the Audio Visual systems required within the new building. The proposed systems needed to be flexible, multi-purpose, compliant with the University standards and integrate with the aesthetic of the building
Custom Screen Set-Up For Collaborative Work
In addition to the normal seminar and classroom standards, the building called for a series of PC labs that would move away from the traditional lecturing style, to favour a collaborative approach to guided learning. This would require each student to be able to present their work to the rest of the class, as well as allow staff to present work in a fashion where each student had the ability to work alongside the presented content. To enable this, Iiyama 24" monitors were implemented to provide each user with their own personal repeater display. This is enabled by a Crestron NVX AVoIP solution, allowing each student to present their work or view the lecturer or group leads content. Using this system, academics and staff can lead tutoring and focus groups with all students being able to clearly read code, and instruction for a better teaching experience. Custom hexagonal screen mounts, which were integrated with the provided student desks, were designed in partnership with TOP-TEC, to provide optimum viewing angles and room usage.
At the heart of the building is a 250-person, lecture theatre. The space is a great example of design and integration, however, the high ceilings presented a number of challenges for speaker placement, mounting projectors and screens. Large 12" cabinet speakers were hung at height from the ceiling, using custom built metal framing and are powered by a Crown amplifier, with a Tesira Biamp for audio processing and control. Due to the height of the space GVAV had to mount Panasonic Pt-rz990 projectors to the front wall, on custom Unicol brackets, utilising a Panasonic UST backwards facing lens to provide the required 3m image. To safely install the AV, high level access equipment was utilised, and effective team co-ordination was critical to ensure the works were completed safely and securely.
Specialist solution for smaller spaces
A smaller 180-person lecture theatre on the 2nd floor, shares a similar design to the larger theatre but utilises 98" Panasonic display screens, and Yamaha VXC6 ceiling speakers to deliver the same high-quality audio visual experience within a much smaller space, with restrictive ceiling heights.
Throughout ABACWS, the systems utilise Dmps3 all in one switcher/ control systems with TSW touch panels for user interaction. Relaying feedback from the equipment to the University's central Fusion server, enabling quick response to any user issues.
Lecture capture is an important tool for any University, and clarity of sound and video are of the highest importance. Each Lecture Theatre, Seminar Room and Lab space uses either Birddog P200 PTZ cameras, or Panasonic UE4 4K fixed cameras (depending on the room size), to capture lecturer interaction and presentations. Audio capture is facilitated by a mixture of Shure wireless microphone systems and goosenecks microphones, with some rooms using a Sennheiser Team Connect Ceiling 2 array microphone.
Future Space
The University also commissioned the design of a Hybrid learning room, that would allow for staff to teach to both attending and remote students, for specialist interaction. This space utilised Panasonic CQ display screens, two Panasonic UE40 PTZ cameras (for student and lecturer capture) as well as a Sennheiser Team Connect Ceiling 2 rooms microphone for audio capture of all interactions within the room.
Digital Signage
Various digital signage points were implemented within student hub spaces to present important notices and signage. These utilised high-brightness Panasonic display screens, along with Kramer VIA wireless connectivity and Onelan digital signage players. Designed and warrantied for 24/7 use the screens are able to provide students with an ad hoc collaboration space, whilst providing the university with valuable spaces to convey important information to its students, staff and visitors.
TK team column boards
The main subjects that would be taught within the buildings teaching spaces are mathematic centric, and traditional whiteboards would not have been suitable for each required teaching space. GVAV worked with TK Team to specify and install a series of whiteboards, chalkboards and column boards using both surfaces to ensure that all annotation and teaching methods were catered for. GV also provided individual whiteboards and chalkboard surfaces for the corridors and study spaces for students to utilise outside of class.
Due to the limited installation period, close collaboration was required to liaise with the distribution network to ensure the stock was available when needed. This provided unique challenges due to the current global logistics, component and stock crisis. The GVAV team worked proactively to advise delays, alternative options and proposals for any issues as they arose.
In addition, good co-ordination and communication with the furniture suppliers and other trades was essential, due to AV equipment requiring integration with furniture that GVAV were not supplying.
See a full tour of the building in this video by Cardiff University: