Bournemouth University - Gateway Building
AV INSTALLED
NEC C-Series Diplays
Panasonic PT-RZ12 and VMZ50 Projectors
WolfVision VZ8 Visualiser
Lumens PTZ VC-G50 Camera
Crestron Control System
The new Bournemouth Gateway Building plays a pivotal role in Bournemouth University's future development. Home to the Faculty of Health and Social Sciences, its 10,000 square metres of space has created a unified base for education, research, and office activities, which previously took place across several buildings in the Lansdowne area.
GVAV were tasked with implementing new AV technologies and solutions into a wide variety of educational spaces including a lecture theatre, agile teaching spaces, techno booths, and seminar rooms. The project also required decommissioning rooms from old Bournemouth University buildings and moving equipment across to new spaces to effectively re-utilise some of the existing AV equipment.
GVAV have a longstanding relationship with Bournemouth University and as such the design phase was straight forward, even with 'non-standard' rooms the process was simple and straight forward. The University maintained their preference to implement DNP Supernova Core projection screens in seminar rooms due to their fantastic ambient light rejection. Paired with the Panasonic VMZ50, this combination provides incredible clarity and brightness in all the seminar rooms. A Logitech C270 webcam features alongside the projector, enabling remote participants to join the teaching session, a WePresent 1000-p wireless sharing device was also fitted into all spaces for easy collaboration and content sharing. For simple room management, Crestron room booking panels were implemented outside all 18 seminar rooms. The Techno booths compromised of Top-Tec Synergy desks with Clevertouch Pro UX screens and Extron cable cubbies, making them an ideal flexible collaboration space.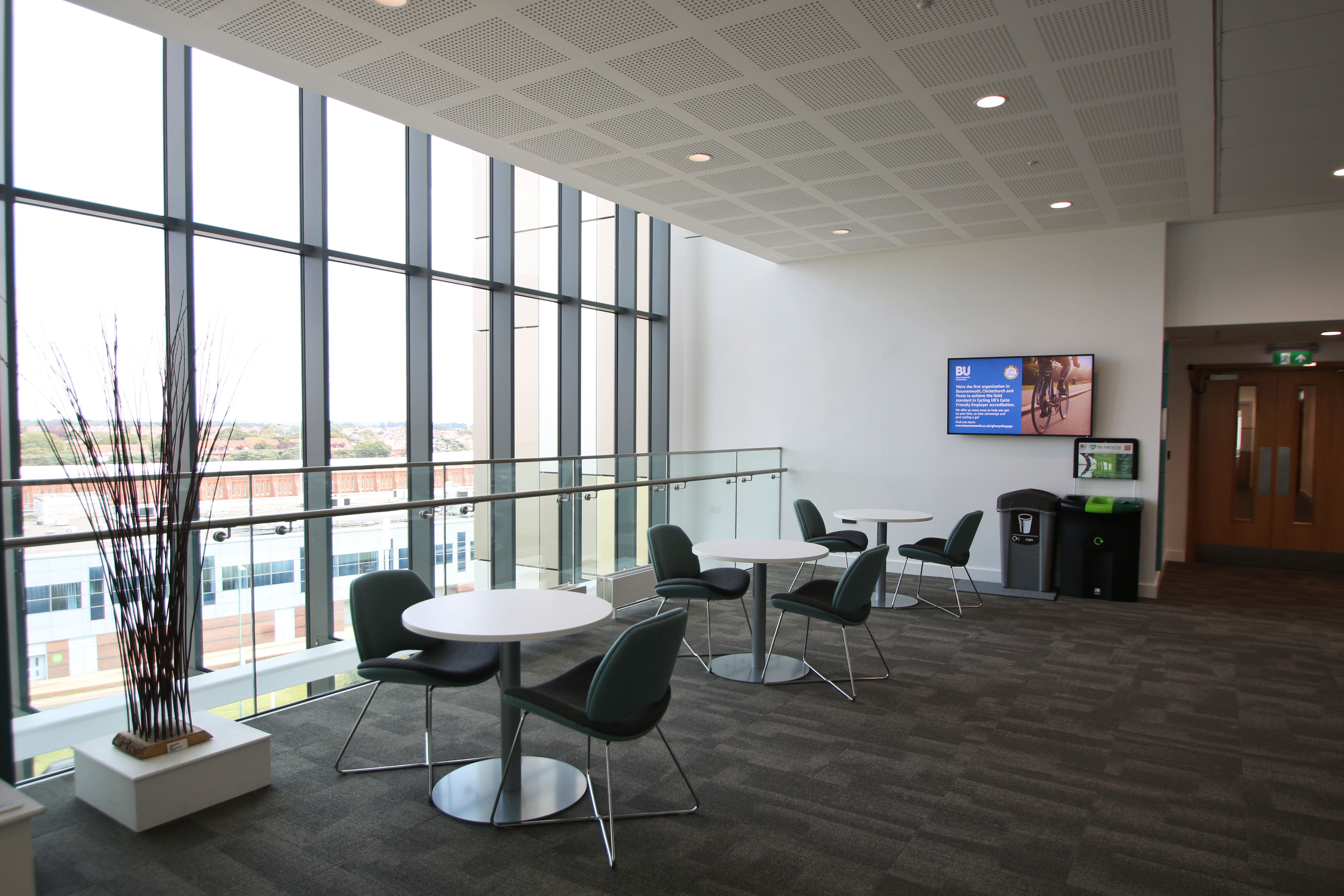 An Anatomage virtual dissection table takes centre stage in an open space on the ground floor for casual group teaching, paired with a wall mounted LG 88" stretched display for easy content viewing. For wayfinding, university updates and other important information, digital signage displays with NEC C551 screens and Onelan players are located around the building.
A feature point of the building is the 260-seat lecture theatre. A JM Graduate 2200 lectern sits at the centre front of the modern space, with a WolfVision VZ8 Visualiser for crystal clear live display. A Crestron TSW750 control touch panel, Iiyama 24" monitor, Sennheiser Speechline handheld and lapel microphones, and a Beyerdynamic fixed lectern mic also feature on the lectern for a top-class set up.
The impressive, custom made, 5500mm x 3090mm Stumpfl projection screen is microperforated for acoustic transparency. This allows speakers to be mounted behind the screen for effective sound reinforcement. Coupled with Ecler Arqis and JBL 8320 speakers around the lecture theatre, this provides the space with surround sound style audio playback and clarity. Beyerdynamic MPR 210-W hanging microphones were fitted for audio capture to enable audience participation.
For a high-quality projection image, the Panasonic PT-RZ12 projector with 12,000 lumens brightness and 120Hz high frame rate was selected, paired with an ET-D75LE6 lens. A Lumens PTZ VC-G50 Camera works as the ideal solution for high-quality and efficient lecture recording for remote participants.
Specialist medical simulation rooms including an operating theatre, hospital wards, residential flat and maternity birthing rooms provide critical training opportunities for health and social science students. Across these rooms, GVAV implemented NEC C Series 55-75" displays and Crestron MPC3-302 media presentation controllers for easy teaching.
One area of the project that required additional consideration was the observation rooms, the client required an iPad to be used for recording over a hospital bed, the location also needed to be flexible. GVAV chose two solutions, one was a medical arm from Vogels and the other was a Swivl C1 iPad stand, both items allowed the users the flexibility required.
The installation process was successful and efficient, with a staged first and second fix. The only added complication was bringing together stock from two old buildings, of which some had to be decommissioned and moved to a storage location on the Lansdown campus. The building is spectacular both inside and out and the finish is of the highest quality, and it has the AV to match while minimising the environmental impact by re-use where practical.