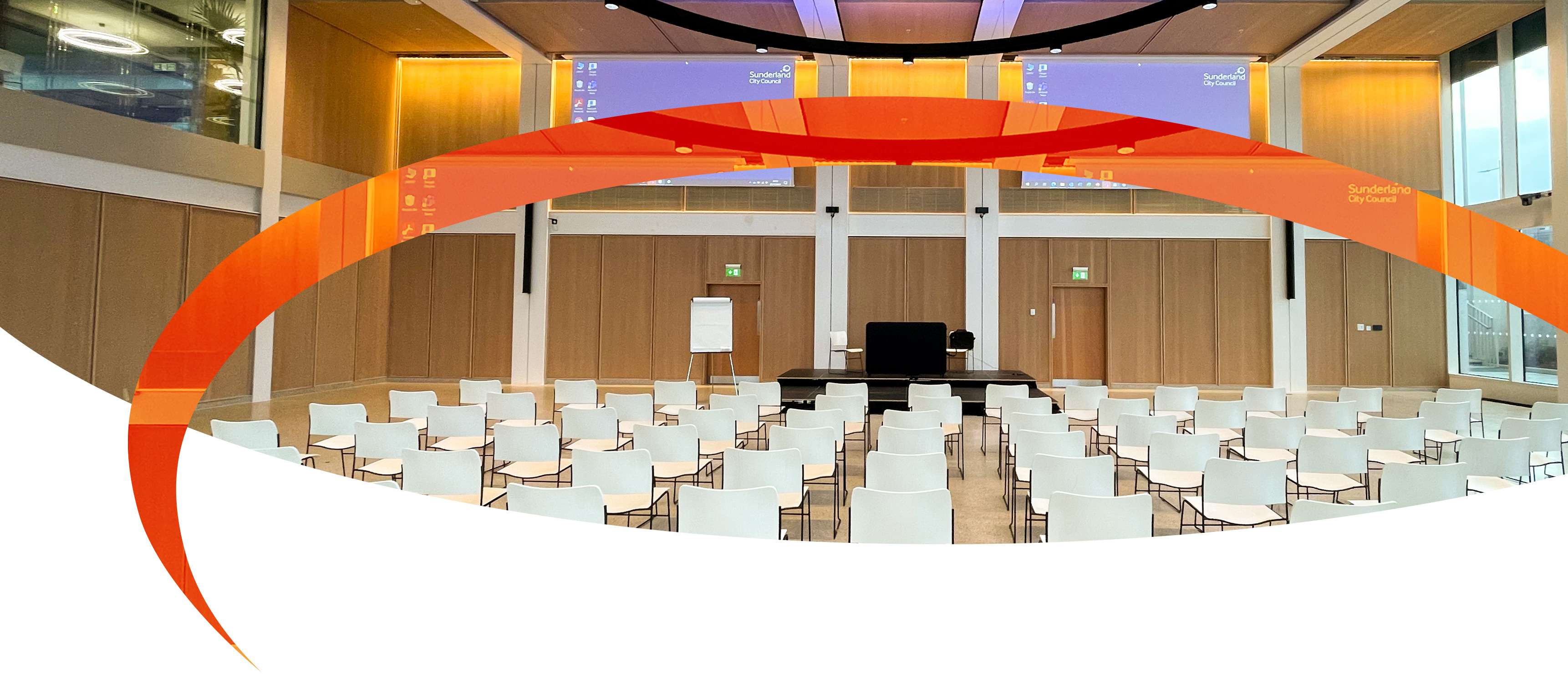 AV INSTALLED
Crestron NVX AV over IP for content distribution both building-wide and within larger spaces
Panasonic "SQE1" Series 4K Displays and "RQ22K" 4K Projection
Barco Clickshare CX for a wireless Meeting Room user experience
Crestron UC-SB1-CAM Video Conferencing Soundbars
Onelan 4K Digital Signage Players
to provide content feeds
ROOMZ Wireless Meeting Room, Huddle Space and Desk Booking platform
Televic Confidea Flex G4 Wireless Conferencing System
Crestron Control Interfaces
and Processors
​​​​​​​
Click to view and download
Project requirements from the customer
As part of a more comprehensive regeneration project at the site of the former Vaux Brewery in Sunderland City Centre, construction commenced on Sunderland's brand new £42m City Hall in late 2019.
The building will eventually house around 2,000 individuals from Sunderland City Council and commercial tenants such as Gentoo, the Department for Work and Pensions and Sunderland College.
As the project developed, GVAV were engaged to provide Sunderland City Council with a comprehensive consultancy, design and build service for AV Technology.
Working alongside the primary contractor Bowmer & Kirkland and the architect FaulknerBrowns, GVAV commenced the AV consultancy in mid-2020, scoping out Sunderland City Council's requirements and undertaking a lengthy programme of stakeholder liaison meetings.
These meetings provided a crucial forum to discuss, assess and formulate the building specification.
Our goal? A complete understanding of the project by all parties and an end product that would meet the client's exacting specifications. Due to COVID restrictions during the consultancy, GVAV held most of the design coordination and project meetings remotely. Through this process, a clear plan was devised that allowed for all of the requirements to be met using carefully selected equipment.
To read this as a pdf please click here.
A unique community resource
Throughout the entire consultancy process, the keystone requirement from stakeholders was flexibility. Sunderland City Hall is a unique community resource. A multi-purpose facility for use by the people of Sunderland rather than a traditional government building.
With that in mind, GVAV had to "tear up the rule book" regarding the AV specification. A Council Chamber by night might host a fitness class by day, and a mayoral address in the morning could easily be followed by a wedding in that same space that afternoon.
Our AV solutions had to be discreet, wireless (where possible), easily re-configurable, and quickly adapted to any event or usage scenario.
The building consists of five "Specialist Spaces". The Council Chamber, Coroner's Courts, Café, Mayor's Parlour and Registrar's Ceremony Room. Digital signage for all public areas and a 'ROOMZ' system - a wireless desk and huddle space booking system with over 400 bookable assets throughout the building. Furthermore, the project called for 55 bookable meeting rooms with wireless video conferencing facilities.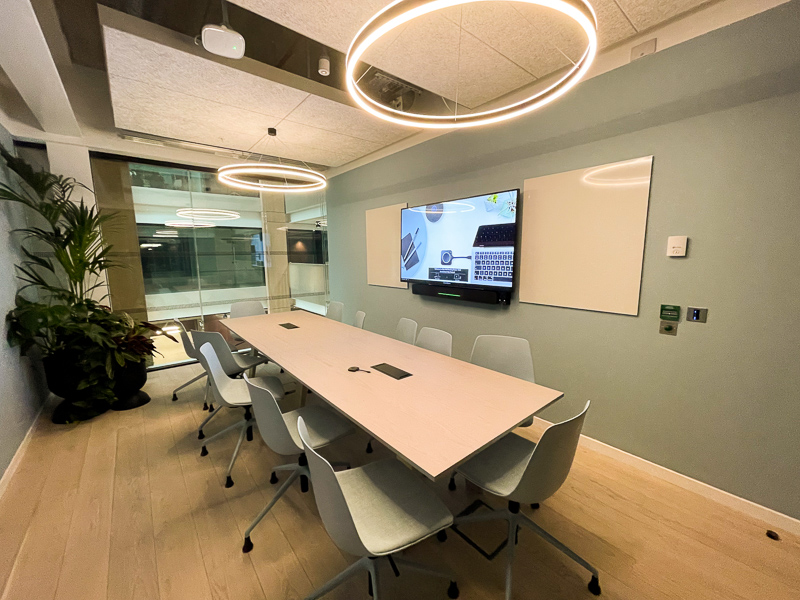 Overcoming the challenges
​​​​​​​
This marvellous new-build project required all parties to work to rigorous schedules. The project represented a significant investment on the part of Sunderland City Council, with exacting needs and necessary oversight and planning. The project needed to offer excellent value to both the client as a public sector organisation and to the people of Sunderland.
The initial appointment of GVAV until the commencement of work took approximately eight months, and the stakeholders and GVAV reached a consensus in February. Having developed the agreed plan in good time, we could begin work on site, and we initiated the first fix in March 2021. With harsh financial penalties for project delays, the installation needed to be commissioned and tested on time.
A number of external challenges were encountered along the way, requiring an imaginative, agile and flexible approach by the GVAV project team.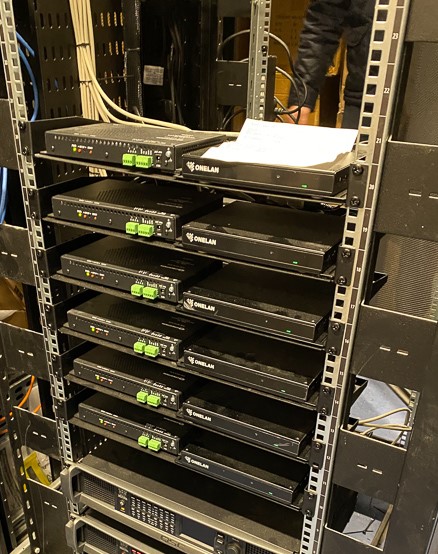 Shifting lead times for the client's new in-house network infrastructure provided challenges. With network switches scheduled for July delivery, GVAV had allowed ample time for programming and commissioning of the AV systems for handover at the end of August. However, owing to global shortages, these delivery dates suffered repeated delays.
With network hardware arriving at the end of September, GVAV needed to be highly flexible, repeatedly rescheduling and reallocating resources to ensure that the installation could hit the ground running. Our installers rose to the challenges admirably, and, despite this unavoidable delay, the finished systems were handed over to the main contractor in November 2021.
With limited experience using AV systems amongst the client team, we undertook the training of key individuals to operate the systems and provided additional on-site support until August 2022. This transition period will allow clients to take over AV operations and go forward confidently.

Testimonial
Through the delivery of the City Hall project, GVAV has become a valued and trusted partner for Sunderland City Council. From consultancy and design to construction and subsequent on-site support, GVAV has greatly supported the Council throughout. This two-year process has culminated in a world-leading deployment of cutting edge, flexible Audio Visual systems that enhance the user experience in City Hall. They showcase the technology aspirations of the City of Sunderland in our wider "Smart City Vision", ensuring that Sunderland is a dynamic, healthy and vibrant place to live, work, play and invest.
Despite significant external challenges during the consultancy and construction phases, the GVAV team worked tirelessly to ensure that completed systems were delivered to strict main contractor deadlines. Since meeting those deadlines in late 2021, GVAV has maintained an open dialogue with the Council and a site presence at City Hall. This has ensured that as the phased move-in to the new building continues, users are supported and provided with training to aid in their adoption of these new AV systems.
GVAV has maintained their commitment to delivering a high-quality service to Sunderland City Council throughout the entire process. Discussions are already underway for further deployments of the technologies already implemented at City Hall.
Peter McIntyre – Executive Director of City Development