Southampton Solent
Glastonbury Cameras
Southampton Solent University contacted GV to purchase nine
high definition cameras in order for their students to film coverage
​​​​​​​of the Glastonbury Festival. Since 2005, students from the University's TV Production, Media Technology, Film & TV courses have been hired to operate as professional crew members to record the festivities. As such, the University required a set of high definition cameras to compliment their existing equipment and record the festival with exceptional quality in order to live vision mix two stages and film a series of documentaries.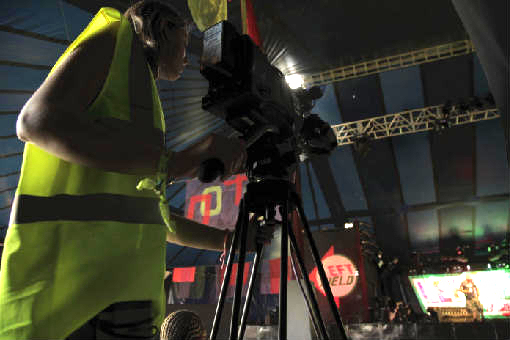 A Panasonic solution.
GV supplied the university with nine new Panasonic HPX317 cameras to go with the existing HPX500 and HVX200 cameras that had been supplied by GV previously. The cameras were set-up at the festival and used to film live footage from the Dance Village and Leftfield stages with documentary crews working across the whole site.

The 35 Solent University students were then able to record and direct two live mixes at Dance Stage East and Lefield, plus enough footage for three documentaries, four web updates and a press video release using the cameras. Panasonic E-Series 64Gb P2 cards and AJ-PCD20 card readers (also supplied by GV) were used in conjunction with their existing vision mixers.
Student success.
With GV's assistance, the 2010 Glastonbury Festival was the students' most successful project to date. Having been commissioned to provide content for Glastonbury TV (the festival's official video blog) and two stages, the students produced the videos and documentaries in 720p high definition – which was ideal for the fast moving lights, bright colours and high contrast.
"GV has won several big tenders at Solent, and has provided a great service. The two key things for us are communication and turnaround. We always get a quick
response from GV, confirmation at each stage of the process, and the quickest delivery turnaround we have seen for bulk orders of broadcast equipment."